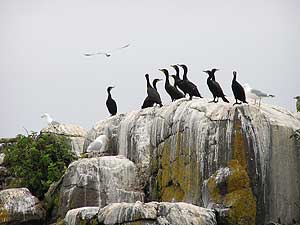 Duluth, Minn. — Don Carlson and Nancy Drilling circle around Knife Island in Lake Superior and choose a place to land.
"Nancy, if you want to start the count right here, I'll walk through the brush down the center and through the backside," Carlson says. "And I should meet you right over there, at the end of the island."
Carlson hooks the anchor on a rock on the shore.
Cormorants share this island with hundreds of gulls. When the humans land, most of the cormorants fly off. But the gulls hang around, complaining about the intrusion. more...